A TOUCHING GOLF STORY
July 11, 2016 at 2:27 pm | Posted in
Uncategorized
|
Leave a comment
A man lost an arm when his golf cart rolled over on him on a down slope. He became very depressed because he loved to play golf.
One day in his despair, he decided to commit suicide and end it all.
He got on an elevator and went to the top of a building to jump off.
He was standing on the ledge looking down and saw this man down on the sidewalk skipping along, whooping and kicking up his heels. He looked closer and saw that this man didn't have any arms at all.
He started thinking, "What am I doing up here feeling sorry for myself? I still have one good arm to do things with."
He thought, "There goes a man with no arms skipping down the sidewalk so happy, and going on with his life."
He hurried down to the sidewalk and caught up with the man with no arms. He told him how glad he was to see him because he lost one of his arms and felt useless and was going to kill himself. He thanked him for saving his life and said he knew he could make it with one arm if the guy could go on with no arms.
The man with no arms began dancing and whooping and kicking up his heels again.
He asked, "Why are you so happy anyway?"
He said, "I'm NOT happy. My balls itch."
..
..
THE NEWS
Odd news from around the world
500kg deadlift smashes record: "EDDIE Hall just keeps breaking records. The English strongman stunned the crowd at the World Deadlift Championships over the weekend by becoming the first man in history to deadlift 500 kilograms (1,102 pounds). While the crowd at the Leeds Arena was going wild, Hall slumped to the ground and began bleeding from his nose. He said afterwards that the lift "nearly killed" him. "The pressure on my body was surreal. I passed out after. I had nose bleeds. It's not healthy doing something like that. "But I've done it. I'm sure it will be in the history books for a very long time… It's that great feeling, Like the first man on the moon, the first man to run a mile in under four minutes. And now I'm the first to deadlift half a ton."
To Inspire Young Voters, Japan Tries Comics, Teen Models and a Talking Grain of Rice: "To persuade 18- and 19-year-olds to head to the polls for the first time this weekend, officials in Japan have launched marketing campaigns starring a series of ambassadors they believe will play to the budding democratic instincts of the country's youth. They include a male model and his platinum-haired sweetheart, a lovelorn comic-book character and a talking grain of rice. The opposition Democratic Party hopes to increase turnout by inviting actual young people—in fact, teen models—to talk sessions with lawmakers where they chat about the latest cellphone apps and gossip about romance between members of parliament. At a recent event, participants suggested free ice cream and more shelters for abandoned pets as policies they wanted the government to adopt. "These models have a lot of big fans, and these events might be an opportunity to make those fans think that politics is actually a part of their lives and that they should vote," said Democratic Party lawmaker Akihiro Hatsushika.
This massive planet has three suns: "About 320 light years away lies a large exoplanet in a triple star system. It may sound like a planet straight out of the fictional realm of Star Wars, but this world actually exists in our galaxy. Astronomers spotted HD 131399Ab, as the new exoplanet is dubbed in a paper published Thursday in the journal Science, and its three stars using direct imaging, so they have a snapshot of this bizarre, star-filled world. The exoplanet sits between its three stars, with each fiery orb pulling at the smaller celestial body. And its orbit suggests that this exoplanet may actually be teetering on the edge of being ejected from its star system. The other stars are so far off in the distance that they don't really have much of an effect on the planet," Kevin Wagner, an astronomy PhD student at the University of Arizona who discovered the strange new exoplanet, tells The Christian Science Monitor. In other words, HD 131399Ab orbits star A, but the exoplanet's orbit brings it a third of the way to the other two stars, B and C, which are close together"
A restaurant in West Yarmouth, Massachusetts turned heads when it unveiled a busty mermaid sandcastle: "Considering the fact that the breasts are covered with a clam shell bikini, the owner of Salty's Raymond Roy just doesn't understand the controversy. The controversy surrounding the saucy Salty's sculpture was actually brought on by the local police department. There were 41 sand sculptures created by Greg Grady and his team from New Hampshire. According to the Cape Cod Times, the police had posted pictures of the sculptures on their Facebook page. The mermaid caused an uproar, and police chief Frank Frederickson was forced to remove the pictures because a few citizens found it offensive. While Frederickson himself thought the pictures were "terrific," off color comments and phone calls to the department were enough to make him issue an apology. The mermaid was designed to mimic Salty's current logo of a mermaid riding a lobster. The controversy has not stopped people from eating at the local cafe, and Roy has no intention of doing away with the sculpture before the end of the summer celebration"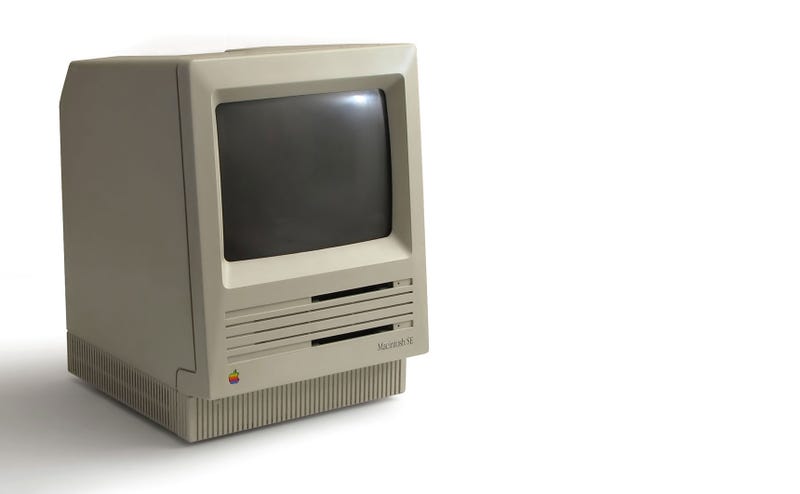 Redditor Gets Old Macintosh From Craigslist, Finds Weird 80s Porn Software: "On Craigslist, Redditor wowbobwow picked up an old, broken Macintosh SE that was destined for a landfill. But once he got the beige box cleaned up and working again, he discovered a big NSFW surprise hidden in a fake "America Online" folder. The redditor had actually stumbled upon a strange piece of Mac history in the form of an "interactive erotica" app, called MacPlaymate, which was created by comic book artist and software designer Mike Saenz in 1986. As you'd expect from a game running on a computer with only 1 MB of RAM and a 20 MB HHD, the premise of the porn was incredibly simple. Players could strip a digital avatar named Maxie, use various sex toys with names like Mighty Mo Throbber, and watch Maxie make it with other digital characters. The software even had a "panic" button that brought up a spreadsheet in case another human walks by. At the time, Saenz sold the game for $20-$50."
And don't forget to catch up with all the Strange Justice before you go.

Leave a Comment »
Blog at WordPress.com.
Entries and comments feeds.