A good put-down
May 13, 2016 at 2:43 pm | Posted in
Uncategorized
|
Leave a comment
Guillermo Ugarte was a character in the film Casablanca
..
..
THE NEWS
Odd news from around the world
The Queen can't hide her delight as she's presented with a £70 shopping voucher after her horse wins at Royal Windsor: "It's unlikely she ever pops into the supermarket for a pint of milk, but the Queen might now be tempted after winning a rather un-royal prize. The monarch, 90, was presented with a Tesco voucher at the Royal Windsor Horse Show after her horse Barber Shop won the Tattersalls & RoR Thoroughbred Ridden Show. Prizes for winners were a Kensington Ri-dry jacket and a £70 Tesco Voucher first to fourth places. She clearly saw the funny side as she was spotted laughing after tearing open a white envelope to reveal the enclosed voucher."
How the 'White Princess' conquered 'Nollywood': "A British former air hostess has become a star of Nigeria's 'Nollywood' film industry after mastering pidgin English. Claire Edun, from Winchester, Hampshire, became interested in the language – a version of English spoken in West Africa – after visiting the country through work. Her almost-flawless use of the dialect led to her being scouted by one of Nigeria's top directors and she has now become a hit in the country's flourishing film industry. The 31-year-old's new movie has become such a success that she is now famous with cinema-goers in the African state and has been nicknamed Oyinbo Princess – meaning 'White Princess'. She admits that treading the red carpets of Lagos is a million miles from the village pantos and school plays which she first acted in, but she has grown a love for Nigeria, which she now considers a home from home"
Giant whale shark looks like the happiest creature on the planet as he smiles for the camera: "This whale shark is certainly not camera shy, breaking into a a huge grin while looking directly at the lens. The big shark was snapped with a wide smile on his face in Triton Bay, West Papua, Indonesia earlier this year. Travel and underwater photographer Markus Roth, from Cologne in Germany, managed to capture these fantastic pictures of the gentle giant. Mr Roth, 39, who also took a selfie with the whale, said: 'I find whale sharks are amazing animals. So huge, but gentle. 'The whale shark was just centimetres away and pushed me really gentle to the side. There was absolutely no fear, I was just in pure awe. While the animal appears toothless in these images, whale sharks actually have about 3,000 tiny teeth and sieve their food through their large gills"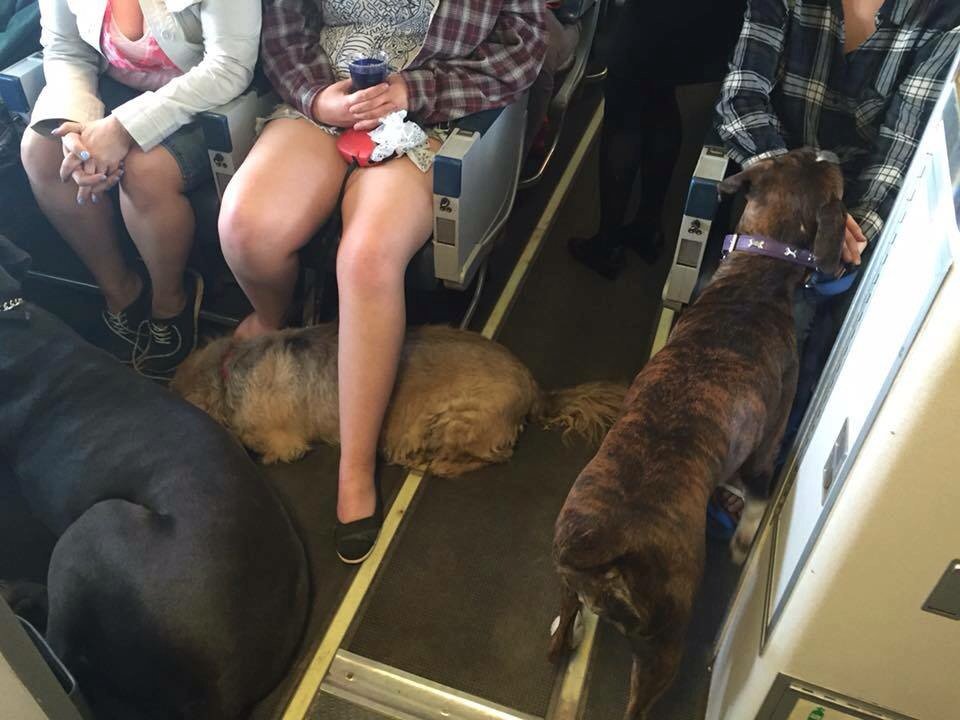 Passengers board flights with pets as mass evacuation continues in wildfire-affected Canada: "Calgary-based airlines Canadian North and WestJet have broken their own no-animals-allowed flying rules to help pets escape the catastrophic wildfires burning in the Canadian town of Fort McMurray. Close to 90,000 residents have been ordered to abandon the town as devastating fires — among the worst in Canada's history — burn through an area larger than the US city of Chicago. To assist with the mass evacuation, the two airlines allowed feline, canine and even reptile pets board flight cabins with their owners, turning the planes into flying Noah's Arks. "Due to the unusual circumstances we were able to bend the rules to accommodate these animals," a representative for Canadian North said. One Canadian North flight last week carried 19 dogs, including a Great Dane, five cats and two turtles alongside 130 human passengers. "When we touched down, we got a standing ovation. It brought tears to our eyes," flight attendant Wanda Murray told CBC"
Giant pelican spotted in the UK for the first time in centuries: "A huge pelican – the largest of its kind and one of the biggest birds in the world – has been spotted in the UK for the first time in centuries. The giant Dalmatian Pelican, whose wingspans measure up to 11 and a half feet, is thought to have been carried here on last weekend's humid weather from Europe. The red-billed bird, native to Eastern Europe, Russia and Asia, was first seen on Saturday at Gwithian in Cornwall. It was photographed at Sennen by teenage birdspotter Josef FitzGerald-Patrick, 15, who heard it had arrived near his home town. Josef, from St Buryan, Cornwall, was with around 20 other bird enthusiasts who saw the rare visitor. The same bird is thought to have previously visited Poland between 6th-11th April, Germany on 16th April-1st May, and eastern France on 3rd May.
And don't forget to catch up with all the Strange Justice before you go.

Leave a Comment »
Blog at WordPress.com.
Entries and comments feeds.