Weather forecasting Pacific Island style…
February 21, 2016 at 3:39 pm | Posted in
Uncategorized
|
Leave a comment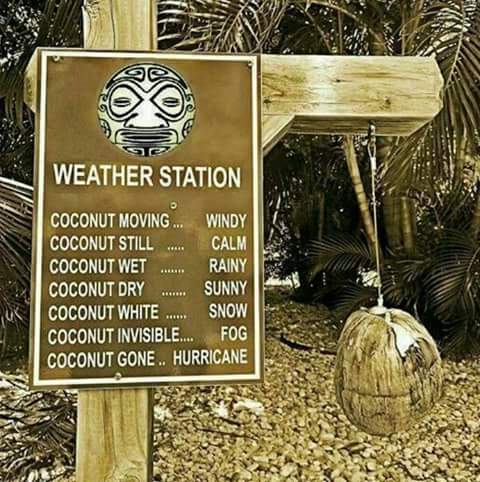 ..
..
THE NEWS
Odd news from around the world
A white Kangaroo: "A woman has captured a rare photograph of a white kangaroo in the wild as it peeked over a fence in South Australia. Rosemary Faehrmann and her husband were driving near the Big Bend on the Murray River in South Australia in early February when they noticed a white roo hopping along next to the road. 'I have never seen an albino kangaroo in the wild and I see kangaroos almost every day,' she told Daily Mail Australia. 'It was coming towards us and by the time it passed us we stopped to have a look and take a picture,' she said. She said the solitary roo took some time to check them out before it continued to hop down the fence. White kangaroos do not often reach maturity as they are predisposed to genetic defects that make them a target for predators. Social media users went nuts over the rare image. According to the ABC, their light skin and fur makes them vulnerable to skin cancer, while they are often burdened with vision and hearing defects that can make it difficult to fight off predators.
Volvo kills off the car key: "Volvo is set to become the first car maker to allow owners to open and start their car with just a phone app. The new Volvo app enables the digital key on the customer's mobile phone to do everything a physical key currently does, such as locking or unlocking the doors or the boot and allowing the engine to be started. The innovative Bluetooth-enabled digital key technology, will offer Volvo customers far more flexibility, enabling them to benefit from entirely new ways to use and share cars. However, the new app will also offer customers the ability to share keys, and even access multiple cars. Using the app people could also potentially book and pay for a rental car anywhere in the world and have the digital car key delivered to their phone immediately, Volvo says. Volvo will pilot this technology in spring 2016 via its car sharing firm Sunfleet, stationed at Gothenburg airport, Sweden."
'Hairy panic' burying Australian town: "A WOEFUL weed is creating havoc for residents in Victoria's northeast. Some Wangaratta locals are frustrated after large amounts of tumbleweed rolled into town — blanketing their homes, cars and driveways. The tumbleweed, known as hairy panic grass, has reportedly inundated an entire Wangaratta street. Resident Jason Perna told Channel 7 it took hours to clean the grass from his property. "It is frustrating. You know that you've got a good couple hours work ahead of you". Cheryl Lengrand spent a day clearing her yard of the weeds, only for them to return the next day. "I spent eight hours yesterday cleaning up the tumbleweed and this is what I've got today," she said. Hairy panic grass is common in the Wangaratta area, but this year's dry conditions has contributed the problem.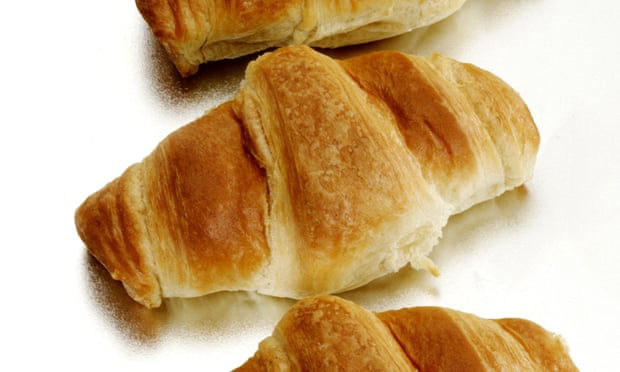 British outraged over straight croissant: "The croissant, the buttery breakfast pastry, means "crescent" in French. But don't tell that to the British. Tesco, Britain's largest supermarket chain and a bellwether of sorts for popular tastes, is dispensing with the traditional curved pastry as of Friday and instead will sell only straight ones. The company offered a decidedly British rationale: It is easier to spread jam on the straight variety. The banishing of the crescent-shaped croissant spurred no shortage of dismay on both sides of the English Channel. "Is this a foretaste of Brexit?" an article in the French newspaper 20 Minutes asked, referring to the possibility that British voters might decide in a referendum to leave the European Union. The newspaper added that it appeared that Tesco's move was not done "to antagonize the French (well, not solely)."
Talkback radio caller claims to have found millions in cash and gold while renovating house: "A NSW man might be about to wipe out his mortgage in one fell swoop, if a sensational claim he made about finding millions of dollars in cash and gold bullion in the wall of his newly-purchased house is true. Speaking to Merrick Watts on Triple M earlier this week, "Dave" told the ebullient radio host he had uncovered the mother lode while renovating. "Between the walls there are is bunch of money," Dave said. "Stacks and stacks of money – and gold bars. There are about 50 gold bars, I estimate about half a kilo each," Dave continued. "And lots and lots of money here." Watts, for his part, told ninemsn that he has no doubt whatsoever that Dave is for real. I've worked in radio long enough, you can hear honesty through somebody's voice and you can just tell when somebody's pulling your leg. This guy's not"
And don't forget to catch up with all the Strange Justice before you go.

Leave a Comment »
Create a free website or blog at WordPress.com.
Entries and comments feeds.