I don't normally tell blonde jokes but I like this one:
March 6, 2015 at 1:15 pm | Posted in
Uncategorized
|
Leave a comment
A flight is on its way to Miami , when a blonde in economy class gets up, and moves to the first class section and sits down.
The flight attendant watches her do this, and asks to see her ticket.
She then tells the blonde that she only paid for economy class, and that she will have to sit in the back.
The blonde replies, "I'm blonde, I'm beautiful, I'm going to Miami and I'm staying right here."
The flight attendant goes into the cockpit and tells the pilot and the co-pilot that there is a blonde bimbo sitting in first class, that belongs in economy, and won't move back to her seat.
The co-pilot goes back to the blonde and tries to explain that because she only paid for economy she will have to leave first class and return to her economy seat.
The blonde replies, "I'm blonde, I'm beautiful, I'm going to Miami and I'm staying right here."
The co-pilot goes back to the cockpit and tells the pilot that he probably should have the police waiting when they land to arrest this blonde woman who won't listen to authority or reason.
The pilot says, "You say she is a blonde? Well I'll handle this, I'm married to a blonde and I speak blonde."
He goes back to the blonde and whispers something in her ear. She says, "Oh, really, I'm sorry." And then quietly she gets up and goes back to her seat in economy…
The flight attendant and co-pilot are amazed and asked him what he said to make her move without any fuss.
I told her, "First class isn't going to Miami ".
..
..
THE NEWS
Odd news from around the world
Strange perfume: "Biohacking has brought us the 'Frankenburger' and vegan cheese but the latest developments could lead to cultured designer fragrances. Experts in Boston are developing a perfume that smells exactly like roses but is made from genetically engineered strains of yeast. They hope to use the technology to create a range of perfumes that even the most discerning customer won't be able to tell apart from the real thing. The plans were revealed to Aviva Rutkin at New Scientist by bioengineers from Gingko Bioworks. Rose oil used in perfume is typically harvested from large fields of the flowers planted across Europe. But because these crops can be affected by changes in weather or natural disasters the yield can vary wildly, which has led to perfumers searching for artificial alternatives. To make the cultured fragrance as close to the real thing as possible, the bioengineers at Gingko coded the genes of the rose to discover which enzymes are responsible for producing its smell".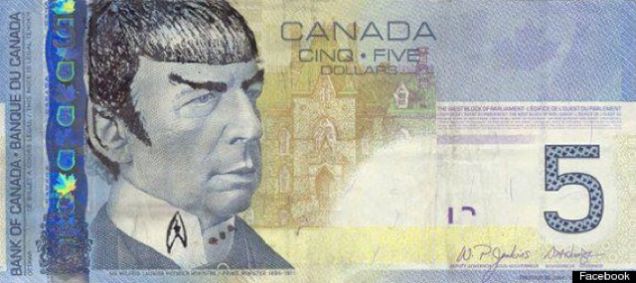 Bank of Canada is pleading with Star Trek fans to stop "Spocking" its fivers: "Bank of Canada is pleading with Star Trek fans to stop "Spocking" its five dollar bills. Since Leonard Nimoy's death, Canadian folks have been "Spocking" the hell out of the five dollar bill that features a portrait of Canada's seventh prime minister Sir Wilfrid Laurier. Sir Wilfrid now sports, on certain bills at least, pointy ears, the signature Vulcan haircut and eyebrows and Spock's mantra "Live long and prosper." According to Bank of Canada it's not illegal to do this but: Writing on a bank note may interfere with the security features and reduces its lifespan. Markings on a note may also prevent it from being accepted in a transaction. Furthermore, the Bank of Canada feels that writing and markings on bank notes are inappropriate as they are a symbol of our country and a source of national pride."
Idiot thief stole two live fish from aquatic shop – by stuffing them in his pockets: "A 'senseless' thief was filmed stealing two live koi carp by stuffing them into his pockets in a 'sickening' act of cruelty. CCTV footage captured the man walking around Aquatic Supplies Wales in Swansea before hovering around the tanks where the exotic fish were kept. He plunged his hands into the water, dropping one of the £60 fish before trying repeatedly to put it in his pocket. Eventually he made off with two of the creatures, with staff at the store unaware of his crime until they reviewed the footage later. Determined to identify the person in the tape Miss Grogan shared the footage on the Aquatic Supplies Wales Facebook page. The couple have reported the incident to South Wales Police.
Colouring-in books for grown-ups!: "A British illustrator has taken the publishing world by storm and sold more than a million copies of her colouring book for grown ups. Johanna Basford, from Aberdeenshire, was delighted when her first book, Secret Garden, proved such a success it was translated into 14 different languages across the world. The book has been a particular hit in Paris where it outsold France's best-selling cookery books. Ms Basford started drawing the illustrations as a way to relax in 2013. Now, her hand drawn illustrations have also been used by numerous brands, including Absolut Vodka, Sony, Nike, Smart Car and Tate Modern. Following the success of her first book she has now created a follow up called Enchanted Forest: An Inky Quest & Colouring Book which features 60 illustrations. She said the new book was inspired by childhood visits to her grandparents on the Isle of Arran in Ayrshire. Ms Basford said: 'Enchanted Forest takes its inspiration from the woodlands that surrounded my grandparents' house on the Isle of Arran.
Naughty Italian teacher keeps her job: "A secondary school teacher whose naked photos were uploaded onto the internet has been told she can keep her job because the pictures 'are very old'. The raunchy photos, which were taken 15 years ago when the Italian woman was still a student, show the brunette identified only as Anita, posing seductively in front of the camera. In most she is wearing nothing but skimpy underwear while cavorting around what appears to be a bamboo set. In others she is seen peeling off a flimsy light green top. But after the pics went online, angry parents flooded the school in the northern Italian town of Treviso with complaints after students identified her. Outraged mum Clelia Cocci, 35, said: 'I'm not happy that a woman who gets her breasts out for porn photos is teaching my son. 'It is disgusting and she should be fired.' But school head Antonia Piva said: 'This was an old episode and the photos are very old. 'She is a great teacher and all her pupils have all been very well-educated by her. 'There is no reason why she shouldn't continue her good work.' Teacher Anita has so far refused to comment except to say that she did not post the photos online herself.
And don't forget to catch up with all the Strange Justice before you go.

Leave a Comment »
Create a free website or blog at WordPress.com.
Entries and comments feeds.