At a wedding function in India
February 16, 2015 at 10:16 am | Posted in
Uncategorized
|
Leave a comment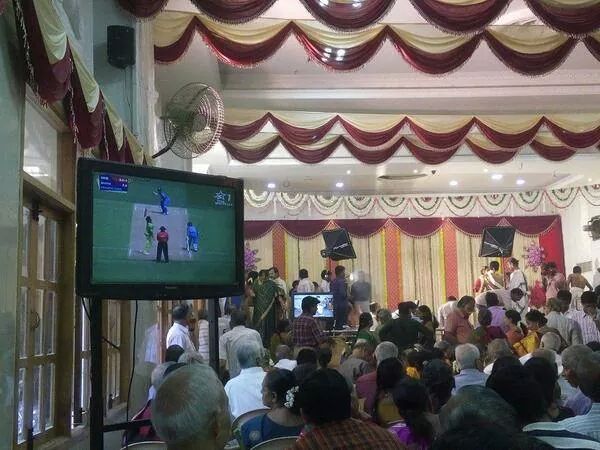 They're all keeping an eye on the cricket — It's an India vs Pakistan match held in Adelaide, Australia. Cricket is India's national religion. It suits their temperament
..
..
THE NEWS
Odd news from around the world
French finally admit you must speak English to be a real leader: "For centuries France has held out against the dull language of 'les rosbifs' just across the Channel. But now the country's future leaders have been told they must master English – a dramatic climbdown for a nation that has tried to ban words such as 'le weekend' from encroaching on its precious vocabulary. ENA, the elite National School of Administration in Strasbourg, which produces the French governing class, is to make mastery of English a compulsory rule of entry from 2018. An ENA spokeswoman said fluency in English was essential to run a modern state, and that potential students had to be prepared. The move is in defiance of traditionalists including former French President Jacques Chirac, who in 2006 pledged to stop the spread of English internationally. 'We fight for our language,' said Mr Chirac, himself an ENA graduate, after walking out of a European Union summit when a French business chief spoke in English. 'I was profoundly shocked to see a Frenchman express himself in English,' said Mr Chirac.
Most trusting wife of all time?: "There is trust in a relationship and then, on a whole other level, there is what daredevil stunt couple Bhramharamba and Balashankar Budati share. The Budatis, from Chirala Mandal in India, perform incredible – or insane depending on your perspective – feats with sticks, stones and sharp objects for the amusement of others. And usually they involve Bhramharamba in the firing line, as in this video where Balashankar balances a coconut on his wife's throat before he demolishes it with a giant machete. The pair will feature in the opening episode of World's Most Talented, which pits countries against each other to decide who has the most impressive skills"
British police have to work out of a coffee shop: "Casually sipping a juice drink – with his high-visibility vest beside him on a table – a police officer chats to a colleague in the cafe of a health food store. It is in a burglary hot spot and a short distance from the scene of the 2011 Tottenham riots. But they are not two constables taking a break after pounding the beat. They are sitting in what passes for a police station in the constituency of Crime Prevention Minister Lynne Featherstone. It is intended to replace the police station in Muswell Hill, which closed in 2013 after more than a century of service to the community. But when The Mail on Sunday reporters observed the 'contact point' over two evenings last week, the police officers had no desk, no private area where they could speak to members of the public in confidence, no means of logging on to the police national computer, and they appeared not to have official forms."
Women are more likely to cheat on their partner if they carry the 'infidelity gene': "It has often been the case that cheating partners who get caught have a long list of excuses to explain away their liaisons. But now scientists have discovered an 'infidelity gene' that could mean cheating women will be able to simply say their genes made them do it. Females who carry a specific variant of a gene which affects social behaviour and sexual motivation have a greater propensity to take part in 'extra pair mating', researchers from the University of Queensland in Australia found. Variants of combinations of the AVPR1A gene have been found to be associated with promiscuity and ruthlessness in animals, the Sunday Times reported. Each person carries two AVPR1A genes – one inherited from each parent – so there are a number of potential combinations. But these variations only appear to affect females rather than males. Dr Brendan Zietsch, a professor of psychology at the university, worked with a team of geneticists and neuroscientists to examine the DNA and lifestyles of more than 7,000 people."
Crying dog: "A dog abandoned outside a train station with nothing but a takeaway tray of water appeared to be so sad at being cast aside, tears filled his eyes. The black Staffordshire Bull Terrier-type dog was abandoned outside Eastbourne Railway Station, tied to the railing and left with just a small pot of water by his owner who fled in a taxi. A photo of the animal, looking forlorn, has been shared dozens of times on the internet with people calling for help for the 'crying' dog. The dog was found whining and pining for his owner after patiently waiting by the railing for more than an hour on February 11 in the hope that he would return. When no one turned up to collect the lonely dog he was reported abandoned. A spokesman for Eastbourne Borough Council said: 'We were called on Wednesday afternoon with a report of a dog tied up and left for more an hour at Eastbourne Station. 'We collected the dog which is now safe and well in kennels."
And don't forget to catch up with all the Strange Justice before you go.

Leave a Comment »
Blog at WordPress.com.
Entries and comments feeds.