October 13, 2014 at 11:20 am | Posted in
Uncategorized
|
Leave a comment
..
..
THE NEWS
Odd news from around the world
Hero Army expert removes grenade lodged in Alabama man's leg: "The explosive device lodged in the leg of a Walker County man was removed early this morning by an Army explosives expert inside an ambulance parked outside of UAB Hospital, ending an eight-hour ordeal. A U.S. Army Explosive Ordnance Disposal specialist out of Fort Benning was brought to Birmingham via Alabama State Trooper escort, and removed what turned out to be a 40 mm practice grenade from the thigh of the man. Birmingham police spokesman Lt. Sean Edwards said the incident ended at 6:50 a.m. Hyche said he was disassembling the grenade when it launched. It was not fired from a launcher. The practice grenades, he said, will fire and travel up to several hundred meters."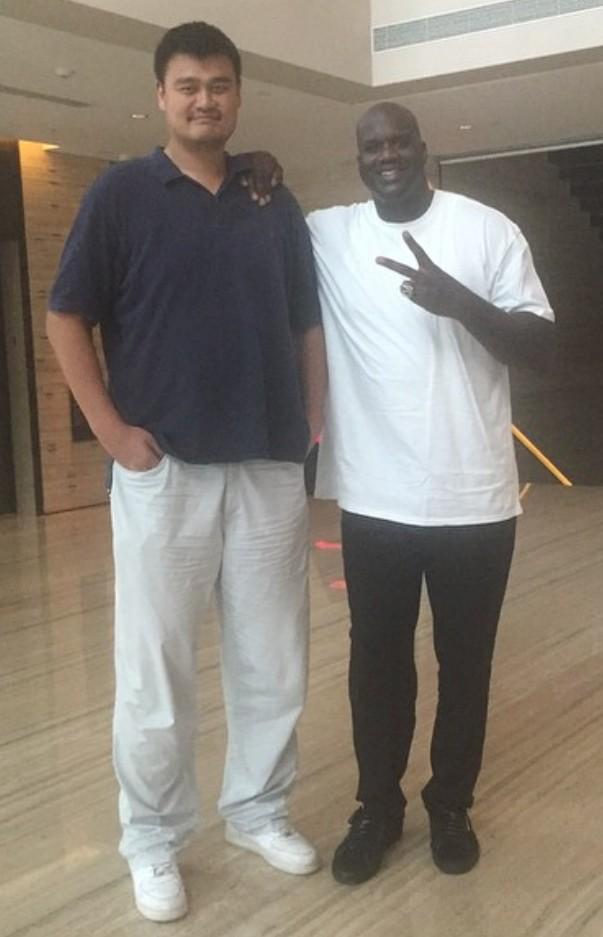 Yao Ming makes Shaq look small in amazing photograph: "SHAQUILLE O'Neal has sported countless nicknames in his life, from The Big Daddy and The Big Aristotle to The Big Cactus and The Big Shamrock. The common thread is "Big", because at 216cm and 147kgs, Shaq is exactly that. Shaq is one of the heaviest players ever to play in the NBA. But there's one man who is bigger. You might remember seeing Yao Ming photographed with tennis stars Roger Federer and Novak Djokovic while they were in China for the Shanghai Masters last week. It's not until you put Ming next to another giant like Shaq that you really comprehend the difference between being "big" and gargantuan. It's no wonder Ming's nickname while he was in the league was "The Great Wall of Yao".
'Satan's Hollow' is hellish for homeowners in Blue Ash, Ohio: "PARANORMAL groups claim to have found a "doorway to hell" in suburban America — and it has become a real nightmare for local homeowners. Legend has it that the storm drain, tucked in the woods behind an apartment complex in Blue Ash, Cincinnati, was once a gathering ground for Satanists who managed to open a portal into the netherworld. The folklore is so pervasive that the supposedly haunted tunnel system, also known as "Satan's Hollow", has become a hotspot for local teenagers and ghost enthusiasts. Visitors commonly claim to hear screams coming from the drain system, or see floating faces in the darkness. In a YouTube report, popular ghost hunter David Scott called the site "one of the scariest locations I have ever investigated". Scott, who used a "spirit box" in an attempt to communicate with ghosts in the tunnels, pointed out graffiti such as, "This way to God's Chamber," "Badlands" and "666." He also said the dank tunnel was notorious for sacrificial killings."
Nasty British bureaucrats again: "A disabled pensioner claims is facing a parking bill of up to £1,500 because he displayed his blue badge upside down. John O'Callaghan, 66, had parked his Ford Focus on a street while he visited a friend at the Royal Liverpool Hospital, returning to find an £80 ticket because his disability badge was not correctly displayed. As he did not have enough money to pay the fine, a bailiff company acting on behalf of the city's council is demanding he pay £422 – or risk having his possessions confiscated. The retired factory worker, from Speke claims he has been told the final bill could rise to £1,500 if he does not pay. 'I told them I couldn't pay £80 in one go so asked if I could do it over two months but the council wanted it straight away. 'Now I've had a letter saying it's gone up to £422 or they will send the bailiffs round. I think these are bully-boy tactics. 'And they are threatening it could go up to £1,500.
Frumpy Australian TV presenter gets a spray: "Her job is to present the national news but one concerned TV viewer believes the ABC's Virginia Trioli is not paying enough attention to her appearance. The anonymous critic took it upon themselves to inform the 50-year-old journalist she is 'definitely in need of a makeover'. In a harsh letter, which the ABC News Breakfast host posted on Twitter alongside the caption 'Mails in #justagirlonabudget', Ms Trioli was instructed that she should stop wearing 'blacks and browns' because they are 'very ageing'. The handwritten memo starts off by saying: 'I watch you every morning,' and goes on to tell Ms Trioli she should change her glasses. 'Next the glasses ugh! Go for the light coloured frames, as with your dark eyes, black make you look "owlish". You will be very pleasantly surprised,' they said. The rude writer asks 'dare I say it, did you obtain your clothes from charity shops?'. Ms Trioli took the letter on the chin, despite its many insults. 'My reaction is just to be myself and not let it occupy a tiny bit of my time."
And don't forget to catch up with all the Strange Justice before you go.

« Previous Page
—
Next Page »
Create a free website or blog at WordPress.com. | The Pool Theme.
Entries and comments feeds.